Samuel Awoyinfa with agency report
The Nigerian National Petroleum Corporation says it has commenced recruitment of fresh graduates and experienced professionals.
The Group General Manager, Public Affair Division, NNPC, Ndu Ughamadu, was quoted by The Cable to have confirmed on Wednesday that the recruitment advert on its portal was genuine.
He said, "The portal was opened today and I have received hundreds of inquiries whether it is correct or not," he said in a statement.
"We are going to recruit people from different engineering fields, especially fresh graduates and equally in the administrative areas."
Ughamadu explained that the recruitment would be in three categories – fresh graduates, senior officers/ supervisory cadre and managerial cadre.
He gave the recruitment portal address as https:/careers.nnpcgroup.com.
In November, the national oil company had denied ever maintaining a staff strength of 70,000 in its history.
There have been previous incidents of widely circulated social media adverts about vacancies in the corporation which came out to be false.

FOREX, BITCOIN,BINARY ACCOUNTS MANAGER: We guaranteed 37% weekly profit by professionally trading your Forex, Cryptocurrency and Binary accounts for you. Call/WhatsApp:+2348030797998. Click here for details. www.standardfx.org
NNPCNNPC RECRUITMENTView Gallery (6)
TODAY IN
HOME
Buhari, Ambode, others mourn as Lagos collapsed building kills pupils, others
JUST IN
Supplementary election: CUPP accuses Kano of allocating N223m to councils
4:11 am
FG, APC planning to use military to rig rerun elections – PDP3:57 am Buhari, Ambode, others mourn as Lagos collapsed building kills pupils, others3:40 am Take over operation of OML 11 from Shell, Buhari orders NNPC3:25 am
Court settles 33-year case, awards journalist $99,599, N3m3:24 am Ronaldo: King of Champions League3:22 am Senate minimum wage panel begins sitting3:18 am NNPC confirms recruitment of fresh graduates, others3:17 am
Time for us to be Nigerians, again3:15 am Undergraduate crushed to death on campus in Cross River3:13 am 2019 UTME begins April 11, says JAMB3:11 am Reps lament inconclusive polls, Senate vows to probe INEC3:05 am
Lessons Ihedioha can learn from Okorocha's 'demolition'3:02 am Gunmen murder pregnant cop, DPO, two others in Edo3:01 am
METRO PLUS
New judge takes over Saraki's aide fraud case
Court settles 33-year case, awards journalist $99,599, N3m Undergraduate crushed to death on campus in Cross River Gunmen murder pregnant cop, DPO, two others in Edo
Family, Ondo NSCDC disagree over suspect's death Court remands alleged Internet fraudster in custody Two trucks collide in Anambra market, kill six PHOTOS: Rescue operations continue – LASEMA
SPONSORED/PRODUCT REVIEW
A Closer Look at the HUAWEI Y7 Prime 2019: Stunning Design, AI Camera and Premium Features
Booking.com – the hidden gems that can save you money in your next booking
POLITICS
Supplementary election: CUPP accuses Kano of allocating N223m to councils
PDP asks INEC to declare Wike winner of Rivers poll Senator wants court to stop INEC from giving certificate to Kalu Ihedioha promises all-inclusive government in Imo
Senate to debate militarisation of 2019 elections next week
BUSINESS
Take over operation of OML 11 from Shell, Buhari orders NNPC
Nigeria, India to expand $12bn bilateral trade FG completes concession process for N6.68bn hydropower plant Deregulate power sector, Don urges FG
Buhari appoints executive directors for NSIA
PUNCH VIDEOS
[VIDEO] Election day drama: Remi Tinubu banters with area boys, others VIDEO 'Igbo, we no dey trust una again', Tinubu tells voter VIDEO: Nigerians recall presidential election as Gov polls hold on Saturday
VIDEO: LASPARK contractors protest at Lagos Assembly VIDEO: Fighting for campaign goodies in Lagos VIDEO: Passengers escape death as bus catches fire on Otedola bridgeNext SectionJust In
Classic version
© 1971-2017 The Punch newspaper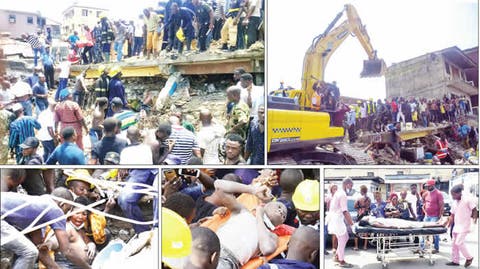 8′
Scenes of the collapsed building at Ita Faaji, Lagos Island…on Wednesday. Photos: Kayode Jaiyeola, Oluwatobi Akindele and Oluwafemi DawoduFEATURED
Buhari, Ambode, others mourn as Lagos collapsed building kills pupils, others
Published
John Ameh, Leke Baiyewu and Oluwatobi Akindele
Ten persons, including four pupils, were feared dead on Wednesday following the collapse of a building on No. 63 Massey Street, Ita Faaji area of Lagos Island.
About 50 other persons had been pulled out of the rubble alive as of the time of going to press.
PUNCH Metro gathered that the three-storey building, which housed a school, Ohen Nursery and Primary School, and residential apartments, caved in around 10am.
When our correspondent visited the scene of the incident, rescue operation was ongoing and the total casualty figure could not be immediately ascertained.
Rescue equipment from the Lagos State Emergency Management Agency had been deployed in the site.
Other emergency responders such as the Lagos State Ambulance Service, Lagos State Fire Service, Lagos State Building Control Agency, Federal Fire Service, National Emergency Management Agency, Nigeria Police Force, Rapid Response Squad, Nigeria Security and Civil Defence Corps, Nigeria Red Cross Society and the Lagos State Neighbourhood and Safety Corps were also present.
A resident of the area, identified simply as Iya Segun, said the building collapsed as a result of its dilapidated state, alleging that government officials responsible for inspecting and certifying buildings for habitation had always turned a blind eye after being bribed by the owners.
The son of the owner of the building, Erinoluwa Akinmoladun, said the house was under the management of a developer, whom he identified only as Mr Giwa.
He said the construction of the building was completed in 2010 by the developer, who was supposed to manage it for 10 years.
Erinoluwa, who was at the scene assisting rescue workers, added that his father had been rescued, but was not sure if all his siblings had been pulled out from the debris.
When our correspondent visited the Lagos Island General Hospital, no fewer than four pupils were brought in dead and 42 names were made available by the management as those rescued and responding to treatment.
More in Home
Supplementary election: CUPP accuses Kano of allocating N223m to councilsNew judge takes over Saraki's aide fraud caseFG, APC planning to use military to rig rerun elections – PDPBuhari, Ambode, others mourn as Lagos collapsed building kills pupils, othersTake over operation of OML 11 from Shell, Buhari orders NNPC
A mother of three, identified simply as Iya Sukura, whose children attend the school, said two were in critical conditions, while her first daughter was still trapped.
A man, Mr Yekini Ayoola, said his five-year-old grandson, Fawaz, was still trapped in the rubble of the building.
The father of a survivor, Tony Ikueze, said his eight-year-old daughter, Chiamaka, had gone to the school on her own.
"She is my last born. She went on her own to the school this morning, because it is not far from where we live. I was in the bathroom and saw the building collapse when I looked through the window. At first, I thought it was a bomb blast. I thank God that my daughter survived it," Ikueze said.
Our correspondent witnessed a scene where an 11-year-old pupil, Taofeekat Rasheed, was about to be wheeled to the morgue and her family insisted that she should be handed over to them for burial according to Islamic rites, but she suddenly showed signs of life as she opened her eyes faintly.
A cardio pulmonary resuscitation was carried out on her and she was immediately taken to the emergency room.
PUNCH Metro gathered that due to pressure on the Lagos Island General Hospital, many victims were being referred to the Massey Children Hospital and the Lagos University Teaching Hospital, Idi Araba.
According to the General Manager, LASEMA, Mr Adeshina Tiamiyu, the number of casualties cannot be ascertained until the rescue operation is over.
"So far, we have been able to rescue over 40 people. When we finish the rescue operation we can give an accurate number of the victims in collaboration with the medical personnel," he stated.
The state Police Public Relations Officer, DSP Elkana Bala, said 50 pupils and eight tenants had been rescued, adding that only the medical personnel could ascertain their state of health and the number of the dead.
However, the zonal spokesperson for the National Emergency Management Agency, Ibrahim Farinloye, gave the figure of the dead as eight and those rescued alive as 37.
The Deputy Governor, Lagos State, Dr Oluranti Adebule, who sympathised with the parents of the pupils at the Lagos Island General Hospital, implored them to allow the medical personnels to look after the injured.
"I have gone in to see the children and most of them are in stable conditions. We are begging you to allow the medical team to look after your children. We know that you are pained and we can feel that you are hurt. Every minuets count. The Lord will heal them all and grant them speedy recovery," she said.
Governor Akinwunmi Ambode, who got to the scene of the building collapse around 2.42pm, described the incident as unfortunate, and appealed to residents to allow rescuers to carry out their operations without any hindrance
He stated, "I want to commiserate with the families of those who lost their lives in this collapsed building. I want to quickly let Lagosians know that this is quite an unfortunate incident. All we are trying to do is to scale up the rescue operation.
"Our response units are already here; we are getting additional cranes to be able to go deeper than where we are now to rescue more trapped victims."
The governor also gave the assurance that the state government would take over the treatment and foot the bills of the victims.
Ambode said most of the buildings in the area had been marked for demolition, but that some property owners in the area had defied demolition notices, but added that going forward, structurally defective buildings would be demolished.
He added, "So far, from the briefing that I have received, we have rescued about 25 people and some are already dead, but we were earlier informed that it was a school. The building is not technically a school; it is a residential building that was actually accommodating an illegal school, so to speak, on the second floor.
"This is unfortunate but we will investigate what has happened and also see the punishment for whoever are the culprits. That is the secondary level but the most important thing right now is to save lives and I just appeal to people that they should give us the chance to save more lives."
Reacting to the incident, President Muhammadu Buhari said he was extremely saddened by the collapse of the building, which claimed lives, including schoolchildren.
He condoled with the families of the victims and the Lagos State Government, and wished those who were injured speedy recovery.
"It touches one to lose precious lives in any kind of incident, particularly those so young and tender. May God grant everyone affected by this sad incident fortitude and succour," a statement by his Special Adviser on Media and Publicity, Mr Femi Adesina, quoted Buhari as saying.
The President asked the state government to put structures in place to ensure that such tragedies did not occur again.
In a post on Twitter, the Senate President, Bukola Saraki, consoled the families of those who were affected by the collapse.
He said "My heartfelt prayers are with all the families affected by today's building collapse in the Ita Faaji area of Lagos Island, particularly the young schoolchildren, who are reportedly trapped inside. I pray for their safe rescue."
The Speaker of the House of Representatives, Mr Yakubu Dogara, expressed "deep sadness" over the death of the pupils following the collapse of the building.
Dogara, in a statement by his Special Adviser on Media and Public Affairs, Turaki Hassan, said it was heart-breaking that "innocent souls would perish in such a dreadful manner" and called for a thorough investigation of the unfortunate incident.
He said, "This is one too many of these building collapses that usually claim the lives of innocent people. It is time for decisive actions to be taken against all found culpable of breach of building standards that end up in disasters.
"The law enforcement agencies and regulatory bodies must step up their game and put an end to the practice of cutting corners to increase gain. While this has not been established as the cause of this incident yet, past incidents have pointed to this as a serious factor.
"I commiserate with the families of the deceased and pray that their souls rest in peace."
Copyright PUNCH. All rights reserved. This material, and other digital content on this website, may not be reproduced, published, broadcast, rewritten or redistributed in whole or in part without prior express written permission from PUNCH.
DOWNLOAD THE PUNCH NEWS APP NOW ON
FOREX, BITCOIN,BINARY ACCOUNTS MANAGER: We guaranteed 37% weekly profit by professionally trading your Forex, Cryptocurrency and Binary accounts for you. Call/WhatsApp:+2348030797998. Click here for details. www.standardfx.org
Family of six feared trapped in building collapse
Classic version
© 1971-2017 The Punch newspaper